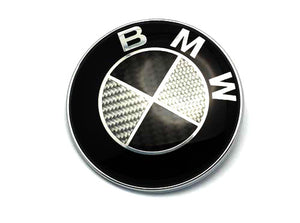 Vsl Performance Carbon Fiber Hood Emblem - F30/F32/F33 2/3/4 Series F87/F80/F82 M2/M3/M4
SKU:
VSL-CF-51147057794-F30H
$2995

$29.95
Special Promotion: Free Shipping in the US 48 States
---
---
Note:
All emblems are mounted with withe 3M adhesive as pictured in rear view picture. But some cars have a 3 guide pin configuration vs. 2 pin. The pins are for installation guidance only and this emblem with work if you have the 2 or 3 pin configuration.
Emblem description:
82mm Emblem with 2 holes in the rear
Front View
Rear View