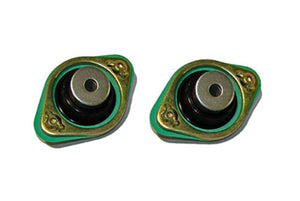 Rogue Engineering Rear Shock Mount Set
SKU:
ROG-RSM-SET-1
$10495

$104.95
TEMPORARILY OUT OF STOCK
Special Promotion: Free Shipping in the US 48 States
---
---
Say goodbye to rear end clunks! With our legendary Rogue Engineering Rear Shock Mounts (RSMs) you have high quality, rebuildable, easily serviceable parts, unlike the factory OE throwaway parts. Do not settle for imitations! We have proudly sold THOUSANDS of our RSMs to many enthusiasts!
Fits the following vehicles:
All E30, including M3
All E36, including M3, Z3 and 318ti
All E46, including M3
All Z4, including MZ4
Rogue Engineering Rear Shock Mount Set includes:
Two (2) Rogue Engineering 6061-T6 CNC, Anodized Rear Shock Mounts
Four (4) Shore A 60 Rubber Bushings (stiffer TRACK versions available at extra cost)
Two (2) 303 Stainless Steel Bushing Spacers (to be used with standard 10mm rear shocks, remove these for 12mm)
Four (4) 303 Stainless Steel Washers (2 required per mount)
Four (4) Yellow Zinc plated M8 serrated lock nuts
Two (2) Shock Tower Reinforcement Assemblies (with 10.9 hardware welded)
Two (2) factory gaskets
Problematic design with Factory Mounts
The factory BMW rear shock mounts are generally a little soft, to provide the most possible acoustically dampening in the vehicle. However, design precludes them from being stout enough to withstand the rigors of aftermarket suspension, or even badly damaged roads. A decent sized pothole can send a perfectly good factory rear shock mount to pop out, making it entirely useless necessitating replacement. Upgrading to E46 M3 rear mounts (a popular alternative) is not a guarantee that it doesn't happen again and again.
Because of poor design and extensive abuse, stock BMW rear shock mounts mounts often fail with rubber deteriorating which then allows the inner metal sleeve to start moving (or eventually separate from the rubber). Usually, this manifests itself as squeaking, rattling, clunking and deflection of the rear shock mount, leading to poor suspension performance and a great deal of annoyance. Replacing the RSM's with OEM units provides temporary relief, but invariably they fail again, usually in 20K miles or so, but often MUCH less when aftermarket high performance shocks are used.
What about those "heavy doodie" factory style mounts?
There has been the introduction of a factory style mount touted as "heavy duty", "taper-core", "ultimate", "stage 1" and many more marketing names. This revised version of a factory mount addresses a single issue (of many) problems with factory style mounts.
A rear shock typically exerts a load (F) on the rear shock mount. The claim being made by these "ultimate doodie" mounts is that the redesigned center steel core with "wings" (indicated by the blue arrows) prevent the center core from tearing, separating and falling through the bottom of the rubber mount. The problem which still exists, when the rubber deteriorates and fails. When cracking/tearing rubber begins at the top (highlighted in yellow), then entire rubber assembly (with very secure steel core!) comes down with it all.
Like factory mounts, these revised versions are not serviceable and only will only eventually take up room in the local garbage can when they fail. It's black-painted, stamped steel housing cannot resist corrosion the same way aluminum and 303 stainless steel.
Another shortcoming of these mounts is that they are not made for 12mm diameter rear shocks (which is the size of many aftermarket, performance shocks). Then again, why would anyone want to put this on a performance shock? These mounts are really for those looking for a cheap, inexpensive fix for a car they no longer plan on driving in a performance capacity (preparing to sell, trading into a dealer, etc.).

Rogue Engineering Rear Shock Mount
Our rear shock machined from 6061-T6 aluminum, we are able to attain a more stable and stiffer platform which to mount the top of the rear shock. However, rather than use race-only spherical bearings or even overly stiff urethane bushings, we specify Shore A 60 hardness rubber bushings (approximately 30% stiffer than the factory bushings) to allow for street comfort and compliance. Our findings show that overly stiff urethane bushings do not allow the rear shock to move, making the attachment of the lower part of the shock under strain.
The construction of the aluminum shock mount plate and orientation of the bushings makes it impossible for the bushings to "pop out" in the manner which the factory style mounts fail. Since the bushings are rubber, when they require replacement, rebuilding them takes only a matter of minutes. Only 4 bushings require replacement (for a pair of RSMs) and are available at extra cost.
Other important details include the use of 303 stainless steel components (compression washers and spacers) for long-lasting corrosion resistance. All other hardware is metric, and either Grade 8 or better, treated with a yellow zinc plating, again for corrosion resistance.
| | |
| --- | --- |
| Suspension Brand | Rear Shock Shaft Diameter |
| BMW OEM Shocks | 10mm |
| H&R Coilovers | 10mm |
| FK Coilovers | 10mm |
| Raceland | 10mm |
| ST Coilovers | 10mm |
| KW V1, V2, V3 | 10mm |
| Bilstein HD, Sports, PSS Coilovers | 10mm |
| Koni Sport/Dinan | 10mm |
| All AST 4XXX/5XXX Series | 10mm |
| Tein (some) | 12mm |
| TC Kline S/A or D/A | 12mm |
| JRZ RS | 12mm |
| Motion Control Suspension | 12mm |