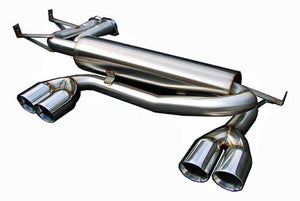 Rogue Engineering El Diablo Exhaust for the BMW M3 (e46)
SKU:
ROG-BE46M-EX-ED
$1,39500

$1,395.00
TEMPORARILY OUT OF STOCK
Special Promotion: Free Shipping in the US 48 States
---
---
UPDATED: 09/06/23
OUT OF STOCK, PLEASE EMAIL US TO BE ADDED TO THE WAIT LIST. APPROX ETA IS END OF NOV 2023

E46 M3 Diablo Features
The RE Diablo is made to fit exactly like factory.  Improved, updated specs!
Weighs only 30 lbs., 26 lbs. lighter than the factory muffler! (factory is 56 lbs.)
100% T-304 stainless steel construction and internals
Fully mandrel bent tubing, no crimps or flattened areas
Mil-finished pipes and muffler, 80mm double wall, angle cut tips.
Full TIG welded construction, no lock seams or pinch welds.
Rogue Engineering logo tastefully stamped in the body of the muffler
Flow-through design does not create muffler "hot spots" found on chambered mufflers
Optimized tubing sizes and minimized bends maintain exhaust velocity without compromising necessary backpressure
Deep, throaty tone, without the drone.
Easy to install (compared to other systems in the market)
Will not change ground clearance
Will not void factory warranty
Will not affect emissions
No permanent modifications required for installation
El Diablo Design; Daring to be Different
Much development was spent to optimize the El Diablo exhaust system.  To understand the improvements, it is important to see how a stock exhaust functions.
What makes the Diablo different is that it is a true "flow through" exhaust system.  There are no design elements to slow down the exhaust gases when they speed up with higher RPMs.  Part of the challenge of this design is optimizing tubing diameters to allow for adequate backpressure while preventing faster exhaust flow from being blocked or slowed.  If you build a system with tubing diameters that are too larger, it results in an exhaust with poor street performance.  Tubing diameters that are too small will restrict higher RPMs.  The key is a balance, all while producing an exhaust that has a nice deep, mellow tone (a function of muffler size, perforated tubing size, and perforation size).  With the Diablo, we have met all of our design requirements.
Do you like apples?  How you like dem apples!
Equipped with optional equipment, your E46 M3 can see significant power gains with the the Diablo and Rasp Pipe.  Bolting on Rogue Engineering specific headers, intake, and software, combined with the Rogue Engineering Rasp Pipe and the Diablo exhaust, consistent power over stock was achieved without dips of hp or torque.  More gains would be expect if performed with 93 octane gasoline.  Of course, individual results will always vary.