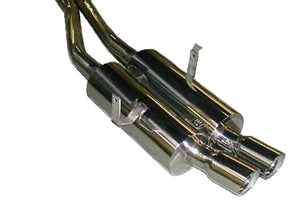 Rogue Engineering DMS Exhaust for the BMW 325i, 328i and M3 (e36)
SKU:
ROG-BE36-EX-DMS-US
$67900

$679.00
CURRENTLY 8 LEFT IN STOCK
Special Promotion: Free Shipping in the US 48 States
---
---
Rogue Engineering introduced the DMS exhaust system in 2001, the first of its kind in the BMW aftermarket.  The DMS (Dual Muffler System) exhaust system represents the latest in performance aftermarket exhaust technology, yet to be uncovered in the BMW marketplace.  With its dual muffler design inspired by the awesome McLaren F1, the DMS mufflers are tuned specifically for each car so that the desired balance of power, torque, and sound are achieved.
Why in the world would we completely design an E36 exhaust from scratch?  To prove that there is always a way to create a better mousetrap.  The Rogue Engineering DMS (Dual Muffler System) exhaust system represents exhaust development brought to epic levels never before seen or done before in performance exhaust development.
The DMS system is more than a unique looking muffler system.  Its twin mufflers allow each bank of exhaust gases coming from the factory catalytic converter to remain separated as they exit the exhaust.  Whereas most aftermarket exhausts use just one muffler, allowing for gases to pass between each of the internal pipes, the DMS system maintains the exhaust gas velocity coming from the cats by keeping them separate.  Faster exiting exhaust gases equates to faster flow.
Since 2001, we have continued to keep the unique look and sound of the DMS a well kept secret among BMW enthusiasts far and wide.  It's no wonder other competitors continue to try to replicate the success of the DMS with their Version 3, Gen 2 and many other versions as they desperately try to copy the unique features of our exhaust.  Make no mistake, there is only one DMS exhaust.  Available only from Rogue Engineering.
Extensive Research & Development
When we begin our research for a performance exhaust system, we have to analyze each and every aspect of the system.  With factors such as tubing size, shape, diameter, internal muffler baffling and more, how do you know when you've got the correct balance? 
Automobile manufacturers have a tough job, designing an exhaust to meet the varying dB limits set all over the world.  Fortunately, for most aftermarket companies, they can be louder than stock (which is what most enthusiasts want anyhow), without any regard for the end result.  Whereas some aftermarket exhaust manufactures will normally weld tips onto a pre-existing muffler, run some inlet tubing, they may have enough time that day to even catch lunch on time.  Most all aftermarket exhaust systems will make more power than stock simply because of the free-flow design of the muffler.  However, have they optimized and analyzed the best combination between power, torque and sound?  Our research has shown that they have not.
By testing various configurations of tubing size, muffler size, and custom muffler internals, we are able to develop a system with a unique look, realistic power gains, with sound control (idle, full throttle, and highway cruising).
What's in a "Stainless Steel" Exhaust?
With so many exhaust manufacturers out there, how can one be different from the other?  It's all about the internals.
Ask most exhaust companies what they use inside their mufflers, and chances are, they don't know.  They may say things like "confidential information" (in other words, they don't know), "sound absorbing packing", or even "high temperature, stainless steel wool".  Frankly, since many companies do not have control over their own production, have no idea who makes their product (or if they even speak English!), and have never seen the internals of their own product, so they can't tell you how it's made.
Is the exhaust(s) TIG welded?  MIG welded?  How do they control sound?  Baffle system?  Perforated tubing?  What prevents the internals from "blowing out" over time?  Although these question may not interest the average person, the typical Rogue Engineering customer is itching to know.
The Details of the Rogue Engineering Exhaust
Rogue Engineering's exhaust systems are proudly made from T-304 stainless steel, internal perforated tubing, muffler tips, and muffler shells.  The entire exhaust system is TIG welded for smooth, small, even welds.  Our near seamless welds do not have the "splatter" found on some MIG welded products.  After welding, the mufflers and tips are polished to a near mirror finish.
Every aspect of these two mufflers were designed for the E36; from the louvered, internal core, length of the bodies, to the placement of the inlet and outlet pipes.  These were not "off the shelf" mufflers made to fit a design...these were designed to fit the car in question.
Longevity was a priority for the Rogue exhaust system.  Therefore, rather than simply packing the internals of the muffler "who know's what", the perforated tubing is tightly wound with stainless steel wool.  This prevents the ceramic-thermal blanket used in the Rogue exhaust to prematurely "blow out", a common problem with inferior quality systems.  Whereas no system can last forever, it's details such as these that allow the exhaust system to maintain a consistent performer the moment you bolt it on your vehicle.
Unique Sound and Power
How does it sound?  Civilized sound with an aggressive tone when prompted.  Virtually imperceptible droning at highway speeds and stock like idle when sneaking into the neighborhood late at night.  Deep throaty sound when the revs increase, without the typical "Asian Import" sound at higher RPMs found in exhausts produced overseas (Hmmm...there may be a correlation).
RE DMS E36 Exhaust Specifications:
Exclusive DMS (Dual Muffler System) high flow design muffler
100% stainless steel construction, mirror polished
Dual, staggered Tone Control exhaust tips, 3" diameter
Stainless flanges (stronger than OE aluminum flanges)
Optimally sized, 57.2mm twin inlet, mandrel bent tubes
Offers additional clearance for differential (for those using aftermarket, finned differential covers).
Fits factory hangers, direct bolt-on.
29 lbs. for complete system, 20 lb. weight savings over stoc
Installation notes;
Designed to fit 6-cylinder E36 models (not Euro M3, not US '99 323).
The rear muffler and pipes are two separate pieces which are to be secured together with included clamps.  If you do not have experience or the necessary tools to install this kind of parts, seek a professional shop.