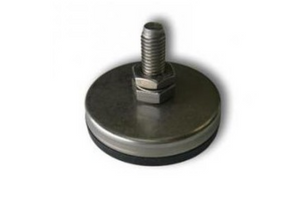 Rogue Engineering Clutch Stop
SKU:
ROG-CS
$1995

$19.95
CURRENTLY 6 LEFT IN STOCK
Special Promotion: Free Shipping in the US 48 States
---
---
Currently, the clutch stop fit the following vehicles:
All E30 3-series

All E36 3-series including M3*

All E46 3-series including M3*

All Z3s include M Roadster/M Coupe

All Z8s (except Alpina)*

All E39 including M5s*
* Late model vehicles have a dual position, solid state clutch switch which requires the clutch pedal to be depressed nearly completely to the floor in order to start the vehicle. For these vehicles, the clutch stop cannot be adjusted to the limits of the clutch pedal engagement unless the clutch switch is modified. Modifications to the clutch switch are required to allow for both vehicle start and cruise control functions to be retained.
** When using a clutch stop, it is VERY important to monitor clutch wear.  When the clutch components start to wear, and the clutch stop is not adjusted accordingly to compensate, you can start grinding internal transmission gears from not allowing the clutch pedal to fully depress and allow the pressure plate to release.  Use at your own risk.
What is a clutch stop?
Part of the joy of driving a manual transmission car is the ability to control the engagement and release of the clutch system. However, with the onset of self-adjusting pressure plates (late model BMWs), it still becomes difficult to "feel" the engagement precisely, as BMW creates vehicles that are more and more luxurious to drive.
The purpose of a clutch stop is to limit the travel of the clutch arm, so that it can be adjusted to a user's desired preference. This can allow for quicker, more precise clutch engagement, especially during spirited driving. The factory does provide a small, plastic clutch stop, located in on the firewall of the foot well, but it's too short to render much adjustment.
An Easy Solution
By replacing the stock clutch stop with an adjustable, larger stop, the user can then specify the travel of the clutch arm. The Rogue Engineering clutch stop is approximately twice the size of the factory clutch stop, so that it will not allow for vehicles with plastic clutch pedal arms to flex and bypass the stop. The Rogue Engineering clutch stop is made entirely of 303 stainless steel, except for the neoprene rubber face, which prevents slippage or noise to be transmitted during use.