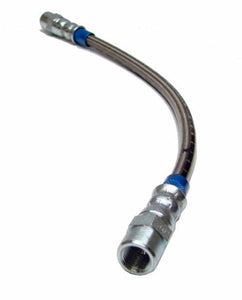 Rogue Engineering Clutch Line
SKU:
ROG-SS-CLU
$3900

$39.00
CURRENTLY 1 LEFT IN STOCK
Special Promotion: Free Shipping in the US 48 States
---
---
Applications:
Model # SS-CLU-01
1992-1999 

E36 3 Series

 - 328i/328is, 323is (not for 325)

1995-1999 E36 M3 (3.0 and 3.2 liter, US Spec)

1993-1995 E34 5 Series - V8 models, 530i & 540i
Model # SS-CLU-02 (OUT OF STOCK)

1999-2005 E46 3 Series (all) including 323i, 323Ci, 325i, 325xi, 325Ci, 328i, 328Ci, 330i, 330xi, 330Ci
2001-2006 E46 M3 (manual transmission only, no SMG)
2006-2008 E86 MZ4 Coupe/Roadster
2004-2009 X3 SAV including X3 2.5, X3 3.0
Model # SS-CLU-03
1998-2002 E36/8 MZ3 Coupe/Roadster
Model # SS-CLU-04
1988 

E28 M5 Sedan

1987-1989 

E24 M6 Coupe

1984-1991

 E30 

318i, 318is, 318ic, 325e, 325es, 325i, 325ic, 325is, 325ix, M3
Model # SS-CLU-05
1992-1999 

E36 3 Series 

- 325i, 325is, 318i, 318is, 318ti

1997-2000 E36/8 Z3 - 1.9, 2.5
Rogue Engineering is proud to offer our braided stainless steel line that replaces the rubber hydraulic hose that connects from the clutch slave cylinder to the clutch master. Over time, the rubber hose can swell and deform under the pressure affecting pedal feel. Our stainless line ensures consistent pedal feel and performance.
What makes our clutch line unique? A few features separate ours from the standard OEM rubber line:
All lines produced in the USA, in our Upper Saddle River, NJ facility.
Teflon® core, surrounded by a braided stainless steel line, covered with an abrasion-resistant plastic jacket. Stainless steel lines without a plastic jacket do not meet DOT requirements.
Our lines also have the DOT-required printed "dashes" on the jacket. Brake lines without these "dashes" do NOT meet DOT approval, regardless of having a plastic jacket. These "dashes" are used to show if a line is bulging or expanding, indicating replacement is necessary.
All lines 100% pressure tested to 3000psi (207 Bar).
Compatible with all brake fluids.
Suitable for street or extreme racing.
Rogue Engineering lines have tractability, a DOT requirement. We are a registered manufacturer with the DOT.