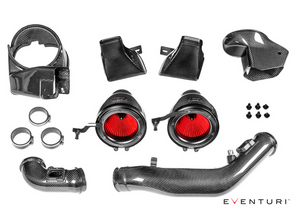 Eventuri BMW F8X M3 / M4 Black Carbon Intake System - V2
SKU:
EVE-F8XMV2-CF-INT
$2,62995

$2,629.95
Special Promotion: Free Shipping in the US 48 States
---
---
The F8X M3/M4 intake system is one of our most ambitious intake systems to date. Now in the updated V2 design, it features sealed filter housings to maintain a more steady IAT, even while stationary. The new ducts which seal the housings, coupled with our scoops ensures unrestricted airflow whilst maintaining low IATs through cold air saturation. Every detail was taken into account to ensure that we created a flagship intake to set a benchmark for this platform. From the scoops to the ducts to the intake tubes – we developed a "complete solution" to ensure a smooth inlet track with cold air saturation. With a carbon weave to match the OEM M Performance carbon – this truly is a new benchmark.
The filter housings are positioned with the openings sealed against the carbon ducts. These ducts have been designed to fit over the stock cold air ducting channels and direct ambient air into the filters. These ducts seal the openings of the filter housings and prevent heated air from entering the filters.
The Eventuri F8X M3/M4 intake system consists of a number of components engineered to perform a specific purpose and fabricated to the highest of standards. Here are the details for each component and the design ethos behind them:

Each intake system consists of:

2 Carbon Fiber Venturi housings
2 High Flow Gen 2 Filters
2 Aluminium Cowls for smooth airflow entry
Left Side Carbon Tube with integrated MAF sensor mount
Right Side Carbon Tube with integrated MAF sensor mount
2 Carbon Fiber Sealed Intake Ducts
2 Carbon Fiber Front Scoops
Laser Cut Stainless Steel Brackets
High quality Silicon couplers with BMW specification hose clamps
ALT SKU: EVEEVE-F8XMV2-CF-INT
** This item is not eligible for return **