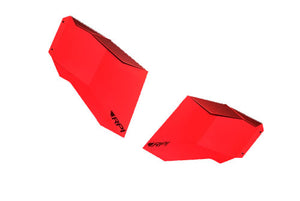 BMW RPI V3 Ram Air Induction Scoops - BMW F12/F13 M6
SKU:
RPI-I1013
$19595

$195.95
Special Promotion: Free Shipping in the US 48 States
---
---
Our popular Ram Air system is now available for the F12/F13 M6. The Ram Air scoops capture oncoming air and forces the air into the factory intake ducting. The stock air duct opening is a hole set to the side behind the kidney grills. As the car speeds up, the fins on the grill guide the air straight back to the factory coolers. The Ram Air scoops capture a significant amount of the fresh air and forces it into the factory intake without compromising cooling efficiency from the OEM liquid-air coolers. Expect a 4-5hp gain. 
* Currently only available in RED 
**IMPORTANT: This kit will NOT fit cars with the night vision option.