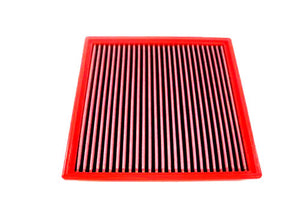 BMW BMC Air Filter X Series F25 X3 (2011+ 35i ONLY)
SKU:
BMC-F25-FB651-20
$8995

$89.95
Special Promotion: Free Shipping in the US 48 States
---
---
The BMC air filter is composed of a metallic mesh containing an oiled multi layer cotton filtration material. This guarantees a high level of filtering efficiency and a limited loss of air pressure. The oil used gives the material its "sticky" adhesive characteristic which aids in the retention of air impurities without compromising or blocking air flow penetration. This also creates a continuous filtering process. The cotton filtrating element is contained within an external support frame which interfaces with the air-box and allows it to be securely installed. Every stage of the production process, from design to manufacturing, is carried out in Italy by Italian engineers and uses the finest quality materials.