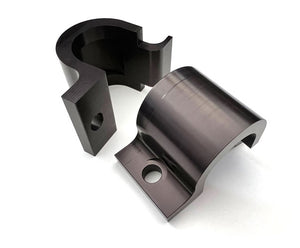 Beastpower BMW E39 5 Series Rear Sway Bar Brackets - Black
SKU:
BEP-E39-RSBB-BLK
$13900

$139.00
Special Promotion: Free Shipping in the US 48 States
---
---
BeastPower Brackets:
BeastPower's custom designed rear sway bar brackets are compatible with the 5-Series (e39), and offer peace of mind and additional safety when driving your car. There isn't a quick fix to the sway bar bracket breakage problem, and therefore BeastPower has designed a completely new bracket. Each BeastPower bracket is machined from a solid block of very strong 6061 aircraft grade aluminum, on a CNC machine. And of course, why pay $170 for a pair of Genuine BMW ones when it will break again? 

Original Brackets:

-The primary issues with the OEM brackets (both the original and the 3 year old modified design) relate to the weak aluminum and imperfect design:

-The OEM bracket is made of relatively weak stamped aluminum.
-The OEM design allows for too much movement of the bracket, causing it to swivel around the bolt. This causes the bracket to snap directly above the bolt.
-The upper lip bends easily due to the aluminum being too weak to support aftermarket rear sway bars. This bending can allow the bracket to pop out of the upper slot.
-The bolt digs into the lower bracket lip, a symptom related to the soft aluminum used in the OEM bracket. This thins the area around the bolt hole, weakens the metal, and thereby speeds-up the process which eventually causes the bracket to break.
-The original brackets retail at $85 each ($170 for the pair), its a no brainer to go with the BeastPower Brackets.
Application
BMW E39 5 Series (1997-2003) including 528, 530, 540, M5
Specifications
Designed by a professional using Pro/E CAD software. The same software that is used by Boeing, Rolex, Audi, Dell, Nike, Maytag, Braun, HP and thousands of other companies to create their products.
-Made from 6061 aircraft grade aluminum.
-Made on a CNC machine from a solid block of 1.5"x2"x3" aluminum billet.
-Each bracket is anodized in black or red (select above when ordering).
-The following items are included in the package: 2 brackets, 2 m8x25mm allen socket cap screws, 2 m8 washers, 2 m8 nylock nuts, installation instructions.
-The Beastpower brackets are compatible with the stock OEM and aftermarket rear sway bars that fit the BMW 5-series (e39).
-No drilling required; bolt on design.
-10-year money-back guarantee (against breakage only)