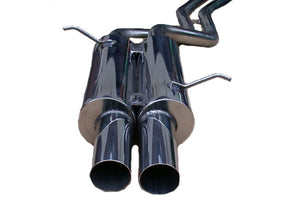 Rogue Engineering DMS Exhaust for the BMW 325i and 330i (e46) (Excludes Verts)
SKU:
ROG-BE46-EX-DMS
$67900

$679.00
CURRENTLY 2 LEFT IN STOCK
Special Promotion: Free Shipping in the US 48 States
---
---
Fits BMW E46 2001-2005 325/330 including iX, wagon.  Does NOT fit convertibles.  Does NOT fit '99-'00 323/328.
Rogue Engineering is proud to introduce our DMS (Dual Muffler System) exhaust systems for the E46 (non-M) in its latest offering to the performance exhaust marketplace.
What makes the DMS unique?
Like all Rogue Engineering products, the DMS exhaust system is entirely designed and developed in the US in Rogue's original facility in Hohokus, NJ (in 2001)  By doing the development, fitting, evaluation and testing here, you're assure a product that not only looks and sounds great, but a product you can have installed with confidence.
How much performance should I expect to gain?
In our testing, replacing only a muffler or even the complete exhaust system on an E46 yields small measurable gains.  Of course, these minute gains may be depicted on a carefully constructed dyno chart.  Rogue Engineering looks at an exhaust with reality in mind, designing our exhaust to deliver great looks and sound, with minimal issues of fit.  Of course, all of this at an affordable price would be a bonus.  These are features that the Rogue Engineering DMS deliver!
For real world exhaust performance gains, this typically means replacing the largest restriction, the catalytic converters, located in the factory exhaust manifolds.  From there, free flow aftermarket catalytic converters could be added downstream, after the exhaust gas velocity had an opportunity to accelerate out of the engine, allowing for the most LEGAL gas velocity allowable.  This course of action, however, is typically can exceed more than $3000 plus installation.
Replacing the ENTIRE factory exhaust system (resonators and rear muffler) with larger tubing WITHOUT addressing the largest restriction is an exercise in futility.  This kind of exhaust "upgrade" will generally cost needless additional installation charges, fit issues (can 6 clamps on an exhaust REALLY fit like factory?), and ultimately, drain your wallet faster than a Bugatti Veyron. 
DMS Features
Just because the DMS exhaust system is easy on the wallet does not mean you are getting short changed.  Features of the RE IKON E46 system include:
Full T-304 Stainless Steel construction
Mandrel bent, dual 57mm tubing (stock is dual 50mm) eliminates center resonator, allowing for increased air flow yielding positive performance gains.
Mill-finished pipes and muffler, mirror polished dual 3" staggered RACE tips fits most aftermarket bumpers (Hamann, MTech, AC Schnitzer)
Entire exhaust utilizes TIG welded construction
Maintains BMW factory warranty
Rogue Engineering logo tastefully welded onto the top of the muffler
Can be clamped or welded (because factory exhaust must be cut, professional installation recommended)
Fits BMW E46 2001-2005 325/330 including iX, wagon.  Does NOT fit convertibles.  Does NOT fit '99-'00 323/328.
Rogue Engineering Development at Work
By using a more conventionally shaped muffler, we are able to spend more time fine tune the exhaust flow and sound being emitted from the exhaust.  Unlike other companies that offer "muffler-only" solutions for E46 applications, we have found through our research and polling, that many of these systems are simply too quiet, not allowing enough sound to be emitted.  
Although we do not produce BMW intake systems, we recognize the popularity and their use in conjunction with an exhaust system.  The RE DMS E46 system produces a deep, melodious tone, and compliments many popular intake systems on the market.   Have your cake and eat it, too!
Because of packaging, oversize shipping charges apply.
INSTALLATION NOTES!  Because of the age of these vehicles, we recommend exhaust mounts that are new (or recently replaced).  If they are broken or are original, it can cause the muffler to move around during driving.  The tips on the DMS are larger than stock and can touch the inside of the valence exhaust opening causing cosmetic damage to the plastic opening.  You have been warned!