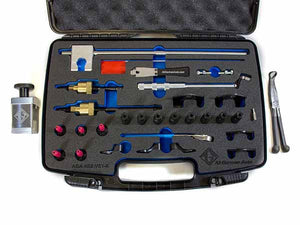 AGA BMW N62 Valve Stem Seal Master's Collection
SKU:
AGA-N62-VST-K-VK
$1,19900

$1,199.00
Special Promotion: Free Shipping in the US 48 States
---
---
This complete set from AGA includes all of the tools needed to replace valve stem seals on N62 engines.
The N62 Master's Collection includes our most popular products: the N62 valve stem seal tool kit, the N62 chain lock, seal pliers, and the valve stem seal installer.
This special value kit is offered at a discount, a savings of almost $50 when compared to the cost of buying these tools individually.
 Models This Product Fits
2002-2005: BMW 745I & IL (E65 & E66)
2006-2008: BMW 750I & IL (E65 & E66)
2004-2006: BMW X5 4.4i/4.8is (E53)
2007-2010: BMW X5 4.8i (E70)
2004-2005: BMW 545i (E60)
2006-2010: BMW 550i (E60 & E61)
2004-2005: BMW 645Ci (E63 & E64)
2006-2010: BMW 650i (E63 & E64)
Parts Included With This Kit
| | |
| --- | --- |
| Quantity | 1 |
| Part # | AGA-N62-VST-K |
| Description | N62 & N62-TU Valve Stem Seal Tool Kit |
| | |
| --- | --- |
| Quantity | 1 |
| Part # | AGA-CH-N62 |
| Description | N62 Chain Lock |
| | |
| --- | --- |
| Quantity | 1 |
| Part # | AGA-SRP-N63 |
| Description | Valve Stem Seal Pliers |
| | |
| --- | --- |
| Quantity | 1 |
| Part # | AGA-VSI-N62-N63TU |
| Description | N62 & N63-TU Valve Seal Installer |